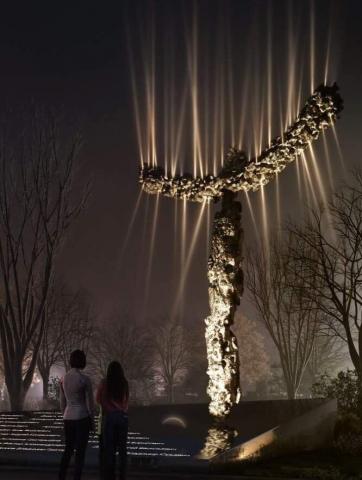 The results of the open competition for the best project proposal for the monument to the Heroes of Heavenly Hundred were announced in Odessa. The press service of the Odessa Regional Council informs, that the winners have been chosen through open voting.
Among the 16 works, project "Rune", created by Odessa artists (sculptor, Honored artist of Ukraine Mykhailo Reva and architects Fedor Boytsov and Sergei Guranchik) had won.
On second and third places are projects submitted by groups of authors led by sculptors Vasily Mironenko and Volodymyr Koren.
The "Rune" is a human figure in the shape of a cross, mounted on a granite plane with the names of the Heroes of Heavenly Hundreds engraved on it. At night, the illumination will be turned on and the monument will shine in the lights directed into the sky.
The sculpture is planned to be installed on Taras Shevchenko Avenue next to the first administrative building -- the Odessa Regional Council.
The winners will receive 30 thousand hryvnas, and the authors, whose projects won the second and third places, 15 thousand and 5 thousand hryvnias.
Mikhailol Reva said that the funds received for the victory would be shared between the three families whose relatives died during the battles in the Donbass.
According to the head of the Odessa regional council Anatoly Urbansky, the money for the construction of the monument will be laid in the regional budget of 2019.
Previously, the regional council has already conducted a similar competition. But results were canceled due to the fact that in a winning project the experts, the media, and the public saw plagiarism from the monument "Pigeons of Peace", placed in Angarsk, Russia.
The winning design is actively discussed on the Facebook.
. 
Submitted on 2018 08 22, 14:38