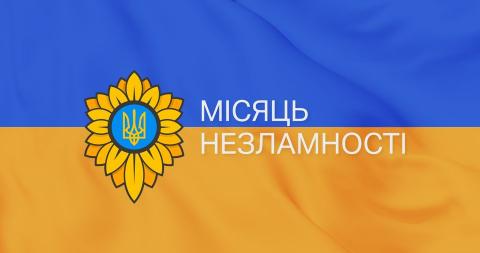 A month of invincibility! A month of strength, struggle, repulse, and heroic defense! A month of russia's war against Ukraine. On Thursday, February 24th, russia launched a full-scale invasion of Ukraine. Since then, invaders weren't able to take any large city. Kherson, attacked by enemy troops, is steadily fighting.
During the invasion, the occupiers lost about 16 thousand personnel, more than half a thousand tanks, one and a half thousand combat vehicles, more than a hundred aircraft.
Unable to implement its military plans, russia is terrorizing civilians. The aggressor will answer in court for all its crimes against humanity. Russia finds itself in international isolation. The whole world admires Ukrainian resistance, our unity, the Armed Forces, the Territorial Defense, and volunteers.
We are grateful to all those who stand for and defend Ukraine on various fronts. Together we will win because we are united.
Our powers are joint and strong.
Submitted on 2022 03 24, 10:30