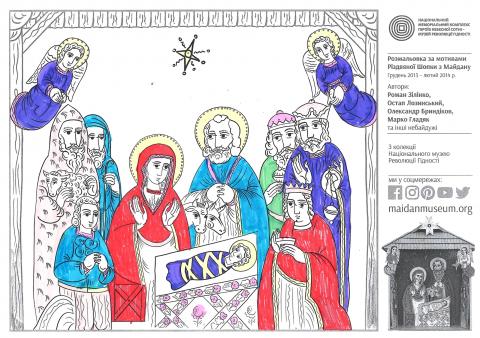 An artist Oleksandr Bryndikov and the National Museum of the Revolution of Dignity created coloring pages for kids based on the motives of the Nativity scene from Maidan. The coloring pages are dedicated to the Christmas Holidays! 
Bright Nativity scene appeared on Maidan in January of 2013. It was a wooden model of the Bethlehem stable on Christmas Eve. A group of artists from Lviv — Roman Zilinko, Ostap Lozynskyi, Oleksandr Bryndikov, Marko Hladiak — worked on the Nativity scene for several days in one of the premises of the Patriarchal Cathedral of the Resurrection of Christ of the UGCC in Kyiv. 
The Nativity scene became a highlight of holidays, a place where people met and gathered to sing during the Revolution of Dignity. It miraculously survived the night of February 19, 2014, when the storming of Maidan happened. Today, the original presepio is one of the most important exhibits in the funds of the National Museum of the Revolution of Dignity.
Prepare for the holidays with the Museum and send pictures of your colorings pages in the comments on our FB page!
You can download the coloring pages in good quality via this link. 
You can view the interview with the creators of the nativity scene in this video.
Submitted on 2021 12 22, 14:26