Construction of the Maidan Museum begins!
German architects will transfer copyrights for the project of the Maidan Museum building
This historical agreement will be signed in a live broadcast Kyiv-Berlin. 
May 17, 13.30–14.30
U K R I N F O R M
Bohdan Khmelnytskyi str., 8/16
The contract will be signed between the National Museum of the Revolution of Dignity and the German architectural bureau "Kleihies+Kleihues". By signing this contract, "Kleihues+Kleihues" will transfer copyrights for the implementation of an architectural project — the constructions of the National Museum of the Revolution of Dignity on the Alley of Heroes of the Heavenly Hundred in Kyiv. 
According to a statement by President Volodymyr Zelenskyi on February 20, 2021, this allows for the further development of the memorial museum complex:
"It is especially important to finish long-term negotiations on the establishment of the Museum of the Revolution of Dignity. Ukraine should pay tribute to the memory of the events of 2013-2014. In memory of the victims and as a sign of gratitude to the Heroes of the Maidan. This is a priority for the country, which will be implemented in several further strategic steps. "
The event will be attended by:
Oleksandr Tkachenko — Minister of Culture and Information Policy;
Maksym Yarmystyi — First deputy of the Chairman of the Ukrainian Institute of National Remembrance;
Ihor Poshyvailo — Director of the National Museum of the Revolution of Dignity. 
Jan Kleihues and Johannes Kressner — acrhitects, authors of the project — live from Berlin. 
Media accreditation: contact  katya.zabava@gmail.com, 096 39 345 66. Due to quarantine requirements, the number of attendees is limited. 
We encourage you to watch the broadcast on this page of the National Museum of the Revolution of Dignity. 
The project "Stomping the "Stomping the Hill" for the Museum was chosen as a result of the International Open Architectural Competition, held on behalf of the Cabinet of Ministers in 2018. The winners are the architectural bureau Kleigues + Kleihues (Kleihues + Kleihues Gesellschaft von Architekten mbH, Berlin / Germany). The authors are Jan Kleihues and Johannes Kressner. For two years the development of the project was blocked due to the imperfection of the legislation on public procurement and the underdevelopment of the practice of architectural competitions in Ukraine. However, the Museum managed to persuade foreign authors to transfer the project free of charge, which allowed for its further implementation.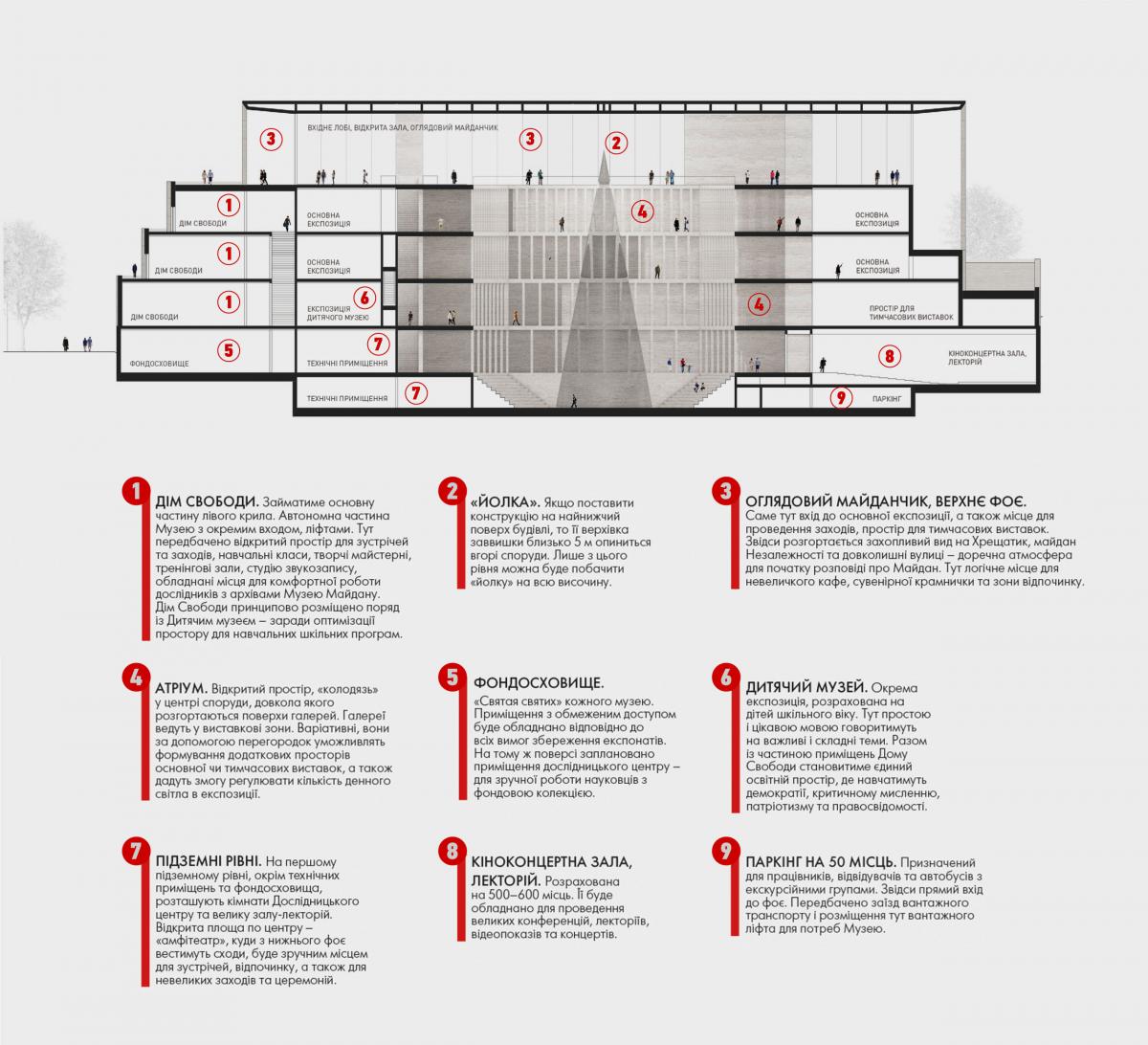 According to the architects, the Museum building on top of the hill will symbolize the decisive moment of storming this height on February 20 and will develop this leitmotif in the concept of the building, which can be climbed to the top by an external ramp around the walls. 
The Museum building has the following main components: a place for national commemorative events, a permanent exhibition, space for temporary exhibitions, a children's museum, a depository and a concert hall/lecture hall, a research center, a media library, and the House of Freedom.
Національний музей Революції Гідності
пресслужба
0963934566, 0442225014,
press@maidanmuseum.org 
Submitted on 2021 05 16, 08:59